STARBUCKS OPENS NEW STORE IN BRNO'S GALERIE VAŇKOVKA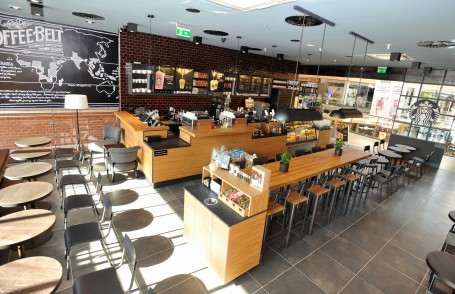 Expansion in South Moravia continues
BRNO, Czech Republic, June 16, 2015 – AmRest Coffee Company, the exclusive operator of Starbucks stores on the Czech market, is pleased to announce the opening of a second Starbucks store in Brno. The store is a part of a shopping and entertainment center, Galerie Vaňkovka, allowing Starbucks to get closer to its customers in the city centre. This 22nd store in the Czech Republic will begin operation on June 16. Starbucks also continue cooperation with the local branch of Czech Red Cross.
"We are very pleased to open another store in a new location in Brno, which will undoubtedly bring us closer to our customers. We aim to provide a special experience with every single visit, and have therefore created an inviting store atmosphere for meeting friends or business partners" said Brian Aherne, regional director of operations Starbucks Czech Republic and Hungary. He added: "Our first store in Brno is doing very well and we trust that the new location will be just as successful."
The modern concept of the store combines three materials – wood, glass and steel, which creates a unique design. The main element of the interior is natural oak wood used for the bar, tables and benches. Another significant element is the entrance portal and the dividing wall formed by the combination of steel and glass, which reflects the industrial origin of the area of Vaňkovka. The interior walls are covered by gray tones, a perfect base for original coffee-themed graphics.
The store is located on the first floor of the shopping mall and offers 56 seats. The opening hours are weekdays from 8am to 9pm, and weekends from 9am to 9pm. As in all other Starbucks stores, guests have access to free wifi. The menu will align with the standard offer in all other Starbucks stores in the Czech Republic.