Lewis Hamilton is the new face of 24/7, PUMA's new Men's Training Campaign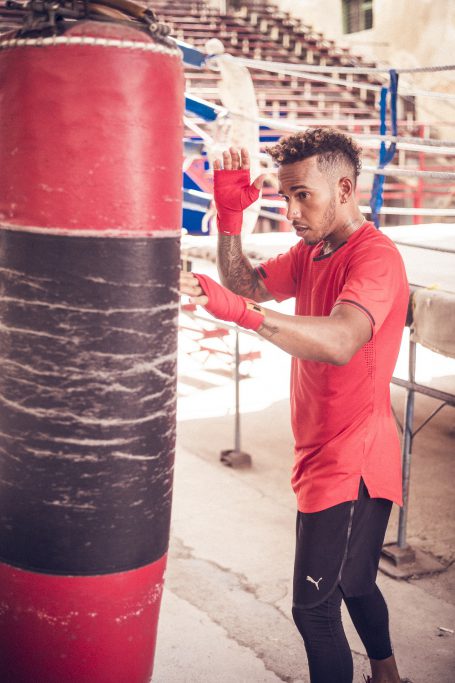 Today global sports brand PUMA launches their "24/7" campaign, the brand's newest performance proposition for men, featuring Lewis Hamilton. As the newest addition to the PUMA family, the four-time FIA Formula One™ World Champion will spearhead the Men's Training Business, beginning with the 24/7 marketing campaign, which redefines the brand's performance philosophy in a time when workouts are no longer constricted to the gym.
Lewis Hamilton is the perfect embodiment of the 24/7 training proposition. With his unending travels and insane schedule, he demonstrates just how necessary it is to have a wardrobe that performs from the gym to the street. PUMA has recognized that the city itself can be the gym, track and stage all day, every day, which is how "24/7" came about. The streetwear line is built to perform. Product designs feature a fusion of high performance training technologies with streetwear styling to create the most flexible collection to date.
"For me, training is one of the most important aspects of my life, I don't just do it to be fit, but because my job requires me to. Before every race I need to be shedding pounds, this completely makes the difference between winning and losing. I think it's so dope to be part of not just the PUMA family, but this campaign, which aligns 100% with who I am," said Lewis Hamilton.
PUMA's newest brand ambassador showcased his training skills at the first ever Global Team Faster Summit in Los Angeles. The event brought together over 100 PUMA trainers from around the world to partake in a fully immersive brand experience featuring street training workouts and workshops that encourage personal hustle.
"As the ultimate hustler, Lewis kicked ass while sporting pieces featured in the 24/7 campaign," said Adam Petrick, PUMA's Global Director of Brand and Marketing. "He brings his own style
and looks good while doing it, which is why he perfectly represents the 24/7 mindset."