Emirates Group releases 2016/17 Annual Environmental Report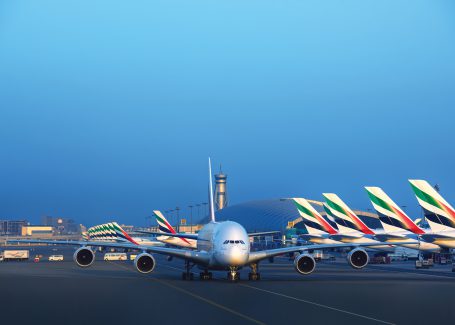 The Emirates Group, comprising Emirates airline and dnata, today published its seventh annual Environmental Report which outlines the Group's environmental performance for the financial year 2016-2017.
Audited by PricewaterhouseCoopers (PwC), the report presents environmental sustainability initiatives and performance data from a range of Group activities covering airline operations, dnata's cargo and ground handling businesses, and other commercial activities such as engineering and catering.
With 2017 being the United Nations International Year of Sustainable Tourism for Development, the Group has linked its environmental priorities to the United Nations Sustainable Development Goals to help it focus better on where it can have the greatest impact.
"2016-17 was a particularly testing year, as we faced a series of social, economic and political events that erupted across our markets around the world. Consumer confidence and travel demand were hit by a series of shocks. Yet our strong track record, business foundation, and brand reputation have stood us in good stead, enabling us to weather these turbulent times," said His Highness Sheikh Ahmed bin Saeed Al Maktoum, Chairman and Chief Executive, Emirates Airline and Group.
"We are investing in our people, new systems, technologies, and infrastructure that will enable us to continue developing our business profitably and sustainably. Our journey to transform our business will open new opportunities to improve levels of resource efficiency, building up our business resilience to chart a path not just through the year ahead, but for the long-haul," he added.
A key part of the Group's environmental strategy is operating an eco-efficient fleet, and during the year Emirates airline retired the last remaining Airbus A340s and A330s. It now only operates a passenger fleet of Airbus A380s and Boeing 777s, and together with its Boeing 777 freighters, the average fleet age stands at 5.3 years, well below the industry average. A modern wide body fleet delivers lower engine and noise emissions, and offers customers a higher level of comfort.
The Group's efforts during the year to enhance operational efficiency across the business also helped to reduce costs and its environmental impact. For example, a water-saving aircraft washing procedure introduced by Emirates Engineering will help save 11 million litres of water a year, while their energy efficiency projects, such as installing light emitting diode lighting in the hangars, are saving a substantial 237 megawatt-hours of electricity a month.
On board, the airline is now providing sustainably-made blankets in Economy Class on long-haul flights. Each warm fleece blanket is made from 28 recycled plastic bottles, which could otherwise have ended up in landfill.
dnata marked its most successful and profitable year of operations yet in its 58-year history. Across its four business divisions, UAE airport operations, international airport operations, travel services, and catering, the company won significant new contracts, expanded existing relationships, and continued to win recognition for its quality services.
Its ground handling operations in Dubai and around the world have been gradually replacing vehicles and ground service equipment with electric / hybrid equipment, reducing emissions of carbon dioxide and other pollutants. Electric ground equipment are also being used at airport operations in Switzerland and Singapore, with plans to extend the fleet of vehicles and the locations where they are deployed.
To enable long-term excellence in Health, Safety and Environment (HSE), dnata implemented an Integrated Management System (IMS) during the year. The IMS, one of the cornerstones of the "One dnata" strategy, covers all operational aspects of dnata's diverse business, and will support a learning culture to deliver continuous improvement across all areas of the business.
The Group continued its strong support for action against the illegal trade in wildlife, and through its "A Greener Tomorrow" initiative contributed to three organisations in Africa that are at the forefront of wildlife protection, namely the Southern African Wildlife College Trust, Southern African Foundation for the Conservation of Coastal Birds, and African Parks. dnata's employee-led philanthropy programme dnata4good also continued its support for wildlife conservation in South Africa, and completed a school-building project in Nepal.