Globus Now Leasing 61,500 Square Metres at Prologis Park Prague-Jirny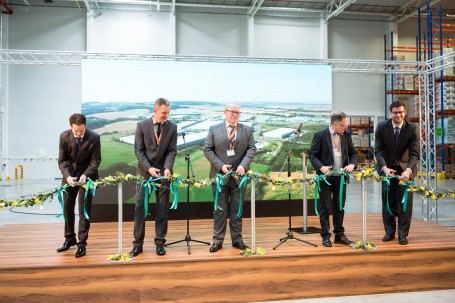 Prologis Delivers Second Major Build-to-Suit Facility for German Hypermarket Chain

PRAGUE (15 March 2016) —Prologis, Inc., the global leader in industrial real estate and Globus Hypermarket Holding, today celebrated the grand opening of a 32,500 square metre build-to-suit facility at a ribbon-cutting ceremony at Prologis Park Prague-Jirny.
The spring-themed event was attended by several Globus representatives, including Globus' owner, Thomas Bruch, and logistics director, Ondřej Zíka, along with Prologis senior vice president and regional head for Central and Eastern Europe, Martin Polák, and the mayor of Jirny, Stanislav Skořepa.
After the ribbon cutting and a guided tour, guests were invited to enjoy the culinary brilliance of Jan Punčochář, renowned Executive Chef of Prague's spectacular Grand Cru restaurant, who prepared an exclusive spring theme menu for the event.
Situated adjacent to Globus' existing and recently renewed 28,916 square metre facility in DC4, this new state-of-the-art distribution centre features temperature-controlled spaces for the preservation of an assortment of dry and refrigerated goods, as well as fresh food and produce.
"Prologis' long-term relationship with Globus is a shining example of what we strive to achieve for our customers," said Martin Polák, senior vice president and regional head, Prologis Central and Eastern Europe. "I am very proud of our local team for their tireless commitment to this project, and I am confident this facility will serve Globus well for its Czech operations just as the original, adjoining space has over the past four years."
"It was crucial for us that Globus' specific storage requirements could be met, and we are very pleased with the results," said Ondřej Zíka, Globus logistics director. "In addition, Prologis was able to offer us additional space for a 'one-roof solution' to optimise our operations within the park, a key factor in our decision to nearly double our distribution space here."
Prologis Park Prague-Jirny is a state-of-the-art distribution park that currently comprises 255,000 square metres of distribution space. The park is located 8 kilometres east of the Prague city border with direct access to the D11 motorway, enabling efficient distribution to local markets and neighbouring countries.
Prologis is one of the leading providers of distribution facilities in the Czech Republic with more than 950,000 square metres of logistics and industrial space (as of December 31, 2015).