CEE real estate investment on target to beat 2016 cycle high as H1 flows hit EUR 5.4bn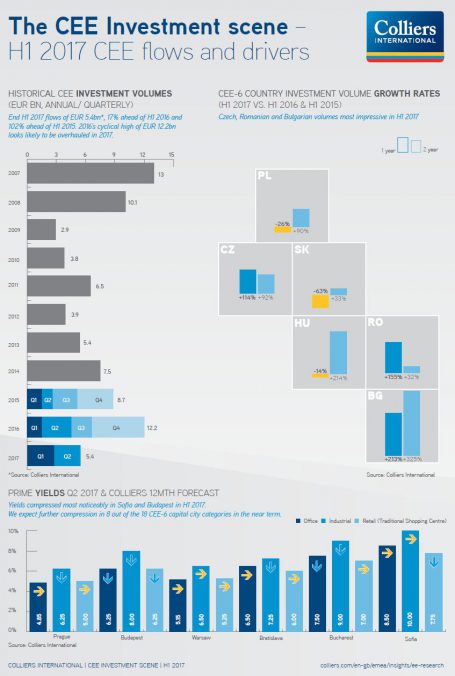 Real estate investment flows into the Central & Eastern European region rose 17% year-on-year in the first half of 2017 to EUR 5.4bn, putting 2016's cycle high of EUR 12.2bn well in 2017's range, according to Colliers International's 2017 H1 CEE Investment Scene report published today.
"We forecast at end of the first quarter that 2016's record-breaking EUR 12.2bn of investment in the real estate sector in the CEE region is likely to be surpassed in 2017, and the data for the first half of the year continues to indicate that scenario will happen," said Mark Robinson, CEE Research Specialist for Colliers International.
In the latest half-year data and outlook report from Colliers, the year-on-year growth experienced in Czech (114%), Romanian (155%) and Bulgarian (213%) real estate investment volumes were the drivers of the momentum in the January-June 2017 period.
Czech volumes have remained the most significant in the region so far in 2017 with flows of approx. EUR 2.2bn, reversing roles with Poland which enjoyed flows of about EUR 1.5bn in the first half of this year. Hungary followed in third place with EUR 824mn.
Flows into Retail dominant in H1, most money from domestic sources
Retail and Hotel investment volumes are rising the fastest within the various real estate segments in CEE. The leading Retail sector saw its volume reach almost EUR 2.6bn in the first half of 2017, compared with over EUR 3.7bn in the whole of 2016.
A combined 37% of the money came from domestic sources within the CEE-6 countries or CEE cross-border flows, which meant a 16% increase compared with 2016 figures. Europe, a traditional origin of investment into CEE, revived during the first half of the year, accounting for 26% of total investment in the first half of 2017.
Yield compression, vacancy rate decreases and rental growth predicted
Prime yield compression in the region's capital cities occurred in five out of the 18 key categories[1] that Colliers tracked in the first half of 2017 versus fourth-quarter 2016 levels, most notably in Sofia and Budapest.
"We expect further compression over the next 12 months in eight out of the 18 key categories," Mark Robinson said. "Looking at fundamentals, we foresee five decreases and three increases amongst the 12 key capital city vacancy rates in Office and Industrial that we follow. We expect rental growth in nine out of the 30 key capital city categories we track in the short to medium term. In only two do we expect a decrease. Rental growth dynamics look strongest in prime office, logistics and TSC retail arenas."
[1] Prime Office, TSC Retail and Industrial yields in Warsaw, Prague, Bratislava, Budapest, Bucharest and Sofia