British Chamber completes move to Flow East's The Forum on Wenceslas Square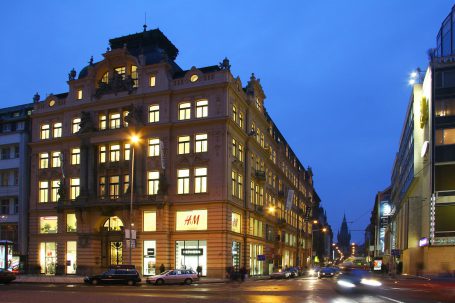 Flow East announces that the British Chamber of Commerce in the Czech Republic has successfully completed its move into The Forum, one of the largest and most recognisable historical buildings on Prague's Wenceslas Square (Václavské náměstí).
The British Chamber is occupying 200 square metres of fully fitted out premium office space in the building, which was acquired by local developer Flow East in 2002 and renovated in 2005. The reconstruction of The Forum followed Flow East's strategy of acquiring and owning historical buildings in the centre of Prague, which are then modernized to Class-A standards while restoring and preserving their historical and cultural features.
The Forum today provides 8,600 square metres of high-quality office and retail space, spread over six above-ground floors, with one basement floor of 22 parking spaces. Flexible floor plates give tenants a choice of open-plan or cellular office arrangements. An elegant glass elevator, five 13-person lifts, card access control system, modern interiors and other premium features combine to make the commercial space in this cultural landmark in Prague's central business district among the most sought-after.
Designed by renowned Viennese architect Friedrich Ohmann and completed in 1896, this Neo-Baroque structure contains many historically significant features, including the magnificent Emperor Staircase with its Baroque stucco work which dominates the interior. External statues, balconies on the 1st and 2nd floors, and an impressive roof cupola have all survived, giving The Forum the appearance of a palace rather than an office building.
The Forum was originally occupied by the Assicurazioni Generali insurance company, which at one time employed Czech novelist Franz Kafka, meaning the British Chamber is following in the footsteps of one of Prague's most famous residents. This latest chapter in the building's history will see the British Chamber join other top tier tenants such as H&M, Sephora, AON, Boston Consulting Group, Mattel and Turkish Airlines.
"When the British Chamber of Commerce came to us with a need for new offices, we were pleased to be able to offer suitable space in such prestigious and historically important building, as well as provide them with a full fit-out service in order to make the move as smooth as possible. The Forum combines a real sense of the city's history with fantastic city centre transport connections and the latest office technologies," says William Bucknell, Manging Director of Real Estate at Flow East.
"The Chamber is a hub of the Czech-British business communities. We feel that having our offices in such a prestigious building and central location gives us the proper platform with which to continue our important work of nurturing and growing business ties between these two countries, which enjoy a close historical bond," says Marcela Černochová, Managing Director of the British Chamber.
Flow East owns other architecturally significant buildings on Wenceslas Square. The nearby Hotel Jalta is a prime example of Stalinist 'socialist realism' with Functionalist elements, while Flow East is also leaving its own architectural stamp on the square with The Flow Building, a state-of-the-art structure scheduled for completion this summer.