Second quarter 2023 activity | Prologis Europe & Central Europe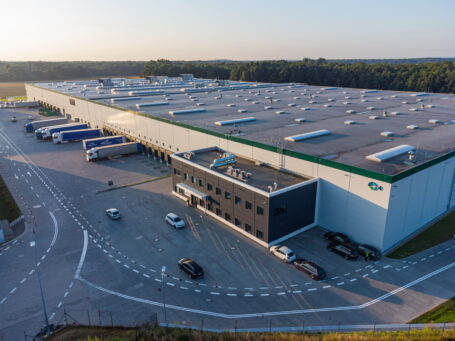 Prologis Europe shared a recap of its second quarter 2023 activity. This summary includes operating performance highlights and insights into select milestones and achievements.
Ben Bannatyne, President, Prologis Europe:
"Our European portfolio continues to be in high demand with an occupancy rate of 98.2% and rent growth of over 26% across the 12 markets where we operate. Due to our scale and size, we continue to support our customers on their decarbonisation journey with solutions from our Essentials platform, such as solar and storage, to fleet electrification and workplace charging, allowing them to focus on growing their business. These opportunities and our robust landbank provide continued long-term growth." 
Operating Performance – Second Quarter 2023:
Total portfolio: 22.3 million sqm*
Second quarter total leasing activity: 837,884 sqm:

230,821 sqm new leases
607,063 sqm renewals

Occupancy: 98.2%
Rent change: 6 %**
* includes operating, development, held for sale, other and VAA/VAC
** rent change is based on commencement dates
Leasing Highlights:
30,969 sqm for an aviation giant, at Prologis Park Hamburg Waltershof DC7, in Germany.
20,163 sqm for Internationaal Transportbedrijf De Vries & Zn., at Prologis Park Veghel DC1, in the Netherlands.
19,282 sqm for a leader in e-commerce delivery solutions, at Prologis Park Wroclaw DC5B, in Poland.
17,439 sqm for CAIRN Logistique, at Prologis Park Isle d'Abeau DC20, in France.
15,083 sqm for Stamhuis Retail Services, at Prologis Park Utrecht DC2, in the Netherlands.
Capital Deployment – Second Quarter 2023
Q2 2023 has seen a total of 103,720 sqm development starts across six sites across Europe.
37,366 sqm in Prologis Park Castlenuovo DC1 in Italy.
23,281 sqm in Prologis Park Bratislava DC16BC in Slovakia.
15,465 sqm in Prologis Park Pilsen II DC2 in Czech Republic.
12,755 sqm in Prologis Park Wroclaw V DC10 in Poland.
7,778 sqm in Prologis Park Castlemaggiore DC1 in Italy.
7,075 sqm in Prologis Park Sant Boi Dc7 in Spain.
Acquisitions:
In the second quarter of 2023, Prologis Europe acquired three buildings totalling 32,601 sqm in the UK and Italy and two land acquisitions totalling 122,377 sqm from the UK.
Dispositions
In the second quarter, Prologis Europe disposed of one 13,670 sqm building in the Netherlands.