PUMA UNVEILS NEW SLOVAKIA HOME KIT FOR EURO '16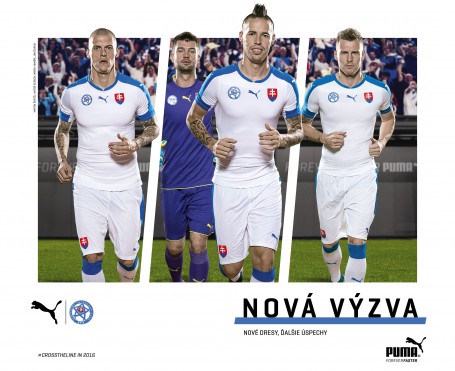 SFZ Look Forward to First Euro Experience in Classic Blue & White Kit 
Bratislava, SLOVAKIA (9 November 2015) – PUMA and the SFZ today launched the new Slovakia home kit that the team will wear at the European Championships 2016TM in France, having qualified for the first time in the country's history. The kit was revealed by some of the Slovak national team players and Jaroslav Šišolák, SFZ Marketing Director, who attended a press conference at the new TOP4FOOTBALL store in Bratislava, and will debut on pitch in the friendly match against Switzerland on 13 November in Trnava.
Inspired by Slovakia's national flag, the new home shirt comes in traditional white and blue. The white shirt features a contrasting blue crew neck collar with an extra twist as the collar tape is shaped off at the front centre. Blue Form Stripes run from the collar down the sleeves and the new shorts continue the stripe detail, creating a sleek, contemporary look. The Slovak 'Coat of Arms' badge is placed over the heart to reflect the passion and pride of the Slovak football fans, whilst the SFZ logo and the PUMA Cat logo are positioned right and centrally on the chest.
Slovakia's new shirt features PUMA's new apparel technology ACTV Thermo-R, strategically inserted in both the front and the back of the shirt to help players maintain an optimum body temperature. A unique phase-change material is injected into the shirt's inner athletic tape which allows microcapsules to absorb excess heat and release it back to the body when needed. The taping in the shirt provides an extra snug fit, micro-massaging the skin in specific areas to provide a faster, more effective energy supply to the active muscles.
Johan Adamsson, Global Director of Sports Marketing & Sports Licensing said, "We are extremely proud of the achievements of the Slovakian team in qualifying, and believe they could be a surprise proposition in this expanded and open Euro 2016. They will be part of a strong PUMA presence at the tournament, and with the nations hopes (as well as our shirts) on their shoulders, they will be a team to watch out for."
The new Slovakia Home Kit is available for purchase at TOP4FOOTBALL (Grösslingová 7, Bratislava) beginning today and on puma.com, www.top4football.sk and www.fanshopsb.sk starting tomorrow, 10 November. PUMA today also launched the new home kits for their other partnered European federations Czech Republic, Italy, Austria and Switzerland.
Images of the press conference, all the new shirts and further press materials are available to download from PUMA's media centre: news.puma.com