Prologis Park Bratislava ready to deliver with new space for Quehenberger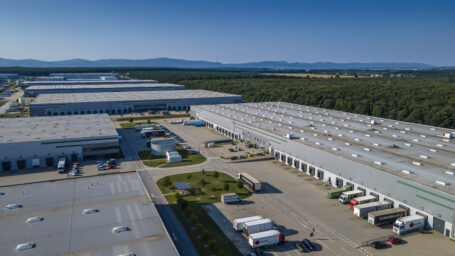 Prologis knows that when it comes to logistics and transportation operations, location is key. Logistics and transport solutions provider Quehenberger has acted on this principle by signing a new deal for space at Prologis Park Bratislava, one of Central Europe's best-connected parks providing quality warehouse space in the heart of Europe.
Quehenberger has signed a long-term lease for 14,700 square meters of warehouse space along with 970 square meters of office space in DC3 at Prologis Park Bratislava. The deal will expand the company's space at the park while consolidating it under a single roof, at the same time revitalizing office areas to enhance the day-to-day working experience for employees.
"Basing our operations at this park provides us with excellent transport connectivity, both within the Slovak market and to other European countries," says Jozef Kováč, agent and site manager for branches in the Senec area at Quehenberger. "We are excited to see what we can achieve at this prime location in our new and expanded space, as we aim to continuously enhance our logistics and transport services for our customers."
As well as a suite of solutions intended to enhance quality of life which have been introduced at Prologis Park Bratislava within Prologis' PARKlife™ initiative, Quehenberger will also benefit from the Prologis Essentials platform. Providing a wide range of warehouse necessities and solutions, the Essentials platform helps customers ensure that they have the equipment they need, when they need it, always at favorable rates. This includes solutions which are now being offered as standard across new Prologis buildings, such as advanced LED lighting, racking solutions and mezzanines. It also encompasses a growing range of automated warehouse systems, together with advanced sustainability solutions.
"Prologis Essentials helps customers make their ideal working environment a reality," says Jakub Randa, Development and Leasing Manager at Prologis. "Our commitment to meeting customer needs goes beyond providing the perfect spaces. A continuous process of support and dedicated service helps businesses and individuals thrive at Prologis parks."High demand for space at Prologis Park Bratislava is confirmed by the fact that with Quehenberger's new deal the park is now at full occupancy, although a further speculative development of 12,000 square meters is planned.