Portland Trust's Coral Office Park Becomes First Czech Office Park to Achieve WELL Health-Safety Rating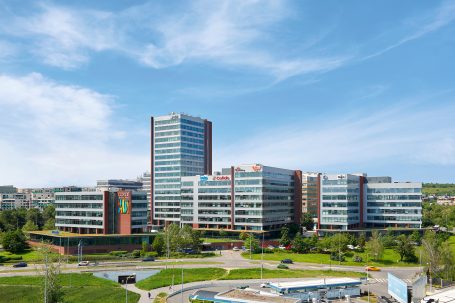 Portland Trust announced today that its Coral Office Park in Prague had earned a WELL Health-Safety Rating from the International WELL Building Institute (IWBI). Coral Office Park is the first office park in the Czech Republic to achieve this rating. The WELL Health-Safety Rating is an evidence-based, third-party verified accreditation focusing on operational policies, maintenance protocols, user engagement and emergency plans to address a post-COVID-19 environment, now and in the future.
"We are delighted to have gained international recognition for our facilities operations and for our commitment to prioritising the health and safety of tenants, visitors and staff," says Robert Neale, Managing Director of Portland Trust. "Coral Office Park has 100% fresh air provision and openable windows to provide purge ventilation. With a wide range of innovative features to enhance safety, efficiency and user satisfaction, Coral Office Park users can have confidence that the buildings' operations match their physical specifications."
To achieve the Czech Republic's first WELL Health-Safety Rating for an office park, Portland Trust intensified cleaning and maintenance regimes at Coral Office Park and instituted new policies for building entry and people circulation. New touch-free turnstiles were installed in all buildings together with disinfectant stations, and self-cleaning nanotechnology was applied to all frequently touched surfaces.
Wellness and user satisfaction are also promoted through advanced property technologies, including a dedicated app with a mobile access solution and Blocks smart lockers for storage and shipments. Coral Office Park also features amenities such as Rohlik Point – a refrigerated kiosk for grocery deliveries, Laundry Box providing dry cleaning and laundry services, a gym, nursery, car wash, conference centre and on-site restaurant run by Olive Food. Other innovations include licence plate recognition technology, LED lighting throughout, fast electric car chargers, and facilities for cyclists, including bike racks and showers.
High levels of customer satisfaction have encouraged existing tenants to renew and expand their leases at Coral Office Park, with expansions and refurbishments for LeasePlan, Cofidis, Škoda, Wacker Neuson and Itadel. Coral has also seen the arrival of new tenants, including Kühne+Nagel, Signify, NEbanka, Doosan Škoda Power, and ProBydlení, an interior design studio. A modern healthcare centre will open in April 2021.
The WELL Health-Safety Rating is a standardised validation method for efforts to promote higher operational standards by building owners and operators. It leverages insights drawn from the IWBI Task Force on COVID-19, in addition to guidance on the spread of COVID-19 and other respiratory infections developed by the World Health Organization (WHO), U.S. Centres for Disease Control and Prevention (CDC), global disease control and prevention centres, and emergency management agencies. It also takes into account recommendations from recognised standard-setting associations such as ASTM International and ASHRAE.