Pilsner Urquell: The Original Beer Experience opens on Prague's Wenceslas Square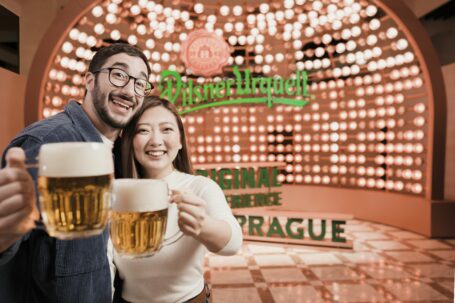 Pilsner Urquell: The Original Beer Experience, a new brand home for Pilsner Urquell, opens in the heart of Prague on Saturday, April 22. The Experience tells the story of the world's first Pilsner beer in a unique way that celebrates Pilsner Urquell's central place in Czech history and culture.
Located at the bottom of Wenceslas Square in a historic building, which was originally constructed as the Prague Credit Bank, the Experience delivers an immersive visitor experience of a kind not seen before in Prague. Visitors discover the Czech Republic's famous beer culture and learn all about its most beloved brand, Pilsner Urquell, in an innovative sensory experience full of technologies to entertain.
The Original Tour, which lasts approx. 90 minutes, takes guests on a journey through the origins and present of Pilsner Urquell beer. A multimedia, hi-tech journey tells the story behind the original Pilsner lager, including a 360° interactive game zone, and offers an opportunity to taste Pilsner Urquell beer in the Beer Hall for an authentic taste of Czech beer culture. Unique state-of-the-art audio guides connect with elements of the Experience automatically as visitors move through the space, providing an entertaining narrative in the main languages used by tourists in Prague including Czech, English, French, German, Spanish, Italian, Japanese and Mandarin.
Other tour options include the Tapster Academy, where visitors learn the art of pouring the perfect Pilsner the Czech way with foam, in three traditional pours: Hladinka, Šnyt and Mlíko. Visitors and locals alike can also visit "Výčep U Zvonu", a stylish street taproom and beer terrace operating independently of the visitor tours.
"The first batch of Pilsner Urquell was brewed on 5 October 1842. A year later it was imported to Prague for the first time. Now, 180 years later, we are bringing the full story of Pilsner lager to the capital city through the Pilsner Urquell Experience. We believe it will attract all lovers of Czech beer," says Rudolf Šlehofer, Craft and Heritage Director at Plzeňský Prazdroj.
The Experience brings visitors closer to the story of Pilsner Urquell beer in an innovative audio-visual way. The Prague brand home was designed by California-based experience design and production company BRC Imagination Arts, and is created and managed by The Original Experience Company, an official license holder from Plzeňský Prazdroj (part of Asahi Europe & International).
"Opening the Experience fills everyone involved in the project with pride," says Nick Penny, General Manager at The Original Experience Company. "It's a dream come true to bring to life such an exciting visitor experience, paying homage to a true Czech icon. We look forward to welcoming Czechs and international visitors alike to this dynamic, educational and fun journey through the story of a national treasure."
Based on the success of similar brand homes in other European capitals, Pilsner Urquell: The Original Beer Experience has the potential to become one of Prague's most-visited tourist attractions. By providing even greater international exposure for Pilsner Urquell, it will boost global awareness of the Czech Republic's unique beer heritage.
"Gastrotourism works very well in the Czech Republic thanks to our great food and drink, and beer is a central part of our gastronomy. Beer brewing has a thousand-year tradition in this country, and beer is often associated with the unique architecture of breweries, beer trails, and the specific culture and unique atmosphere of Czech pubs, which are always worth experiencing," says Jan Herget, Director of the Czech Tourism Centre – CzechTourism, who adds that tourists from abroad often come to Prague for its social life and entertainment. For example, in 2018 these factors attracted 24% of visitors, while so far this year it is 21%.