NEW STARBUCKS STORE IN NOVÝ SMÍCHOV SHOPPING CENTER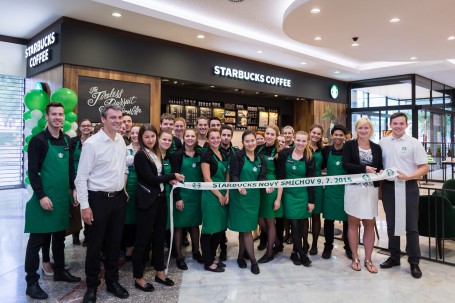 Starbucks opens 19th store in Prague
Prague, July 9, 2015 – AmRest Coffee Company, the exclusive operator of Starbucks stores on the Czech market, is pleased to announce the opening of the fourth store since the beginning of this year. The new location will delight residents and visitors of Prague's Andel neighbourhood, where Starbucks has been missing up until now. The new store will begin operation on July 9 and will become the 23rd store in the Czech Republic.
"Our overarching goal is to become close to our customers and we want them to feel a sense of belonging. As such, we strive to create a pleasant environment that offers a quiet place to relax from the everyday commotion and stress, or to meet friends or business partners," said Brian Aherne, regional director of operations Starbucks Czech Republic and Hungary. He added: "We are very pleased with this year's expansion."
The main element of the store interior is the wood, which has been used for the tables, chairs, and as wall cladding material around the bar. Space for seating is separated from the open space of the shopping center by low metal railings with glass accents, which corresponds to the entrance hall. In addition to wooden chairs, the seating space also provides comfortable armchairs and leather couch. The overall setting is decorated with plants to create a cozy atmosphere. Coffee culture is represented in the design of the store by inscriptions on the walls and original graphics depicting coffee plants.
The store is located on the ground floor of the Novy Smichov shopping mall at the entrance from the Kartouzska street. There are approx. 60 seats located in an area of 104 m2. The opening hours are from 7:30am to 10pm, Monday to Sunday. Guests will have access to free wifi and the standard product offer.