Modransky Haj: one step closer towards successful completion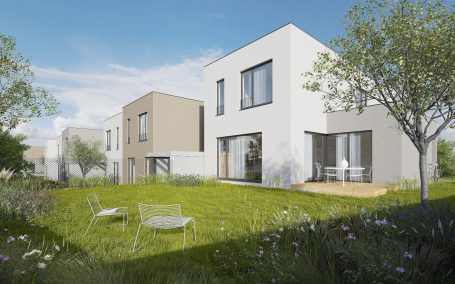 Avestus Real Estate, developer of the residential project Modřanský Háj, received official approval for all the necessary infrastructure in the final construction phase. Roads, communications and all utility networks are now ready for the building of the 17 plots destined for inventive customers who prefer tailor-made housing, as well as for the Modřany Villa family houses, with 16 units currently under construction and 46 more to be launched this spring.
The final building phase for Modřanský Háj has been approved based on the completed infrastructure for the plots available for tailor-made construction and for family houses. Obtaining approval will allow the construction of 62 houses on the Modřanská Rokle adjacent hill. 16 of them have almost been completed as of now. Residential houses with gardens ranging in size between 250 to 480 square meters, equipped with two parking spaces will be available in layout from 4+kk over 4+1 to 5+1 with prices starting at CZK 9.7 million excl. VAT.
The infrastructure permits will also allow the 17 completely interconnected plots on offer at Modřanský Háj to find new owners who want to create their own houses. Half of the plots have already been sold.
Family houses and plots for construction combine all the benefits of Modřanský Háj: proximity to nature with beautiful views, intimate and safe atmosphere ideal for families, easy access to the city centre within tens of minutes and amenities in the immediate surroundings: schools, kindergartens, a golf course, tennis hall, bike rental, and nearby popular roller-blading track.
"We are pleased to have moved the project on another step towards the finish line. Based on the growing demand for apartments, houses and plots at Modřanský Háj, we are convinced that the remaining Modřany Villa family houses of the final phase will soon find new owners. Currently, more than two-thirds of the overall amount of the existing or planned family houses are either booked or sold," said David Kříž, Residential Development Manager of Avestus Real Estate.
Basic information on Modřanský Háj residential complex:
Project launched in 2010
13 blocks of flats completed
17 fully-interconnected parcels available for immediate construction
9 residential buildings, 16 family houses, 5 semi-detached villas and 3 premium villas under construction
46 family houses with construction start planned within the launch of Modřany Villas phase of the project
Balconies, terraces, front gardens, gardens and parking lots available for all units
Last available houses with size varying from 135 to 282,5 square meters and price starting at 9,650,000 CZK
Modřanský Háj Location Benefits:
High-quality transport connections with the city centre – both by car and by public transport
Proximity of nature reserve Modřanská Rokle and other leisure activities locations
Quiet area on a slope on the right bank of Vltava river
Interconnectedness with surrounding countryside in a safe neighbourhood ideal for family life
For more information, visit the website of Modřanský Háj, where you can also access a virtual tour of the family house, Type 1.