Kuehne+Nagel Group celebrates the 30th anniversary of its entry into the Czech market. During this time, it has achieved significant success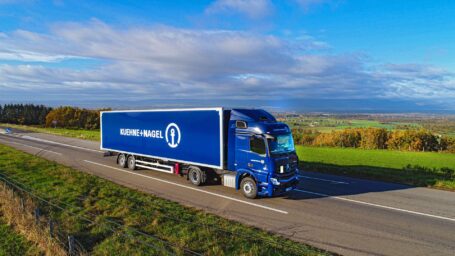 The Czech Republic was one of the first countries in Central and Eastern Europe where Kuehne+Nagel started its expansion in the early 1990s.
Over the course of three decades, the group's domestic labor has grown from a handful of employees to hundreds
Prague, 23 August 2021 – This year, the Kuehne+Nagel Group celebrated its 30th anniversary in the Czech Republic. During this time, it has seen considerable success on the domestic market, opened several branches, divisions and distribution centers and employs many times more people than right after entering the Czech market.
The leading logistics company entered the domestic market in 1991 as part of the expansion of its branch network in Central and Eastern Europe. At that time, the Czech Republic was one of the first countries into which the group expanded. The company employed road and rail transport specialists in the then Armabeton building on Antala Stasek Street in Prague, and shortly afterwards added sea and air transport divisions. Today, the company's headquarters are located in modern office premises on Bucharova Street in Prague's Nove Butovice.
"In 1991, no one could have guessed what success Kuehne+Nagel would one day achieve on the Czech market," recalls Miroslav Pudil, Managing Director of Kuehne+Nagel in the Czech Republic, who has worked for the group since the very beginning of its operations on the local market. "Before the turn of the millennium, we opened branches in Brno and Varnsdorf, a trade fair department also in Brno and an air transport division at the airport in Prague," says Miroslav Pudil.
Alongside the development of contract logistics, Kuehne+Nagel continued to expand its activities in the Czech Republic. In 2007, warehouses were added in Hostivice and Brno, and in 2016 a distribution center in Krupka/Teplice. The opening of this center was also associated with the largest increase in the number of employees. Currently, Kuehne+Nagel employs approximately 360 logistics professionals in the Czech Republic.
During its presence on the Czech market, Kuehne+Nagel has been also involved in large projects in addition to the usual transport of goods. These included for example the logistical support for major cultural events, the relocation of entire factories or investment units, as well as the transfer of equipment for luxury goods stores in Prague's Parizska Street.
Going forward, the group's goal is not only to strengthen its position in the domestic market, but also to contribute to the development of the entire logistics segment towards sustainability and carbon neutrality. At a global level, Kuehne+Nagel has committed to achieving a zero carbon footprint by 2030, thus contributing to the goal of limiting global warming to below 2°C.