Industrial partnership theme for Rheinmetall at IDEB 2022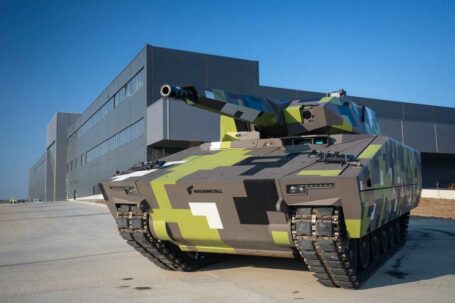 Rheinmetall will display a full range of military vehicles, air defence systems, integrated electronic systems, weapons and ammunition on two large stands at IDEB 2022, the international defence and security exhibition in Bratislava on the 10th-12th May.
The show features 66 exhibitors and anticipates thousands of visitors. Rheinmetall expects its Lynx KF41 Infantry Fighting Vehicle to be a major focus of attention. The Lynx has been selected by Defence Ministries in Hungary as the next generation infantry fighting vehicle, and is currently undergoing evaluation in the USA for the Optionally Manned Fighting Vehicle programme. It is also a contender for large-scale orders in Australia, Czech Republic and Slovakia.
RHEINMETALL EXPANDS ITS SLOVAK INDUSTRIAL PARTNER NETWORK
According to Oliver Mittelsdorf, Executive Vice President Sales of Rheinmetall" Vehicle Systems Division, one of the company's priorities at IDEB will be initiating further industrial partnerships with Slovak defence engineering specialists. 'We already have identified over 70 potential Slovak partner companies and continue to expand our Slovak industry network. IDEB is an ideal venue for making contact with others who are interested in joining our Central European supply chain network'.
This growth is part of Rheinmetall's strategy for a multi-country Central European defence systems industry leveraging the region's capability on the worldwide defence systems market. Rheinmetall has factories in the Czech Republic and Hungary, and has just released details of its new manufacturing plant at Moldava nad Bodvou in Eastern Slovakia. This programme of inward investment and technology transfer has significant implications for employment and the economy in Slovakia, the Czech Republic and Hungary.
RHEIMETALL CEO REFERENCES HEIGHTENED SECURITY CONCERNS
Mr Armin Papperger, Rheinmetall's CEO, predicted great interest at this year's IDEB from international defence customers. 'Current events have shown Europe's governments, in the starkest possible terms, that security must resume its place as a priority issue on the national agenda. IDEB is well-timed and well-placed to provide a showcase for the state-of-the-art defence systems that Europe needs today'.