Four Seasons Hotel Prague Hosts Charity Dinner Under the Baton of the Czech Philharmonic Orchestra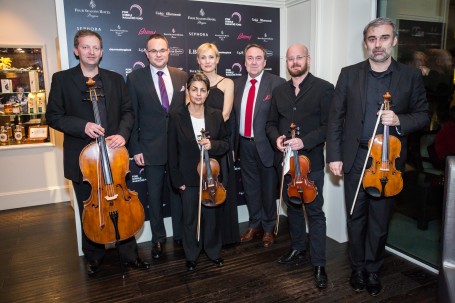 Prague, April 17, 2015 – On Tuesday 14 April, Four Seasons Hotel Prague, supported by the Czech Philharmonic, hosted its second charity dinner for the Pink Bubble Foundation at its restaurant, CottoCrudo. With additional contribution from the Four Seasons Hotels in Florence and Paris, and luxury brands Brioni, LBM Luxury Brand Management, Laurent-Perrier, Sephora and Dermalogica, the event succeeded in raising 503,000 CZK, which will benefit young cancer patients.
"We are very pleased to have been given the opportunity to organize a second event that will indeed benefit, and encourage, young cancer patients," said René Beauchamp, General Director of Four Seasons Hotel Prague. "Due to the generosity of guests and partners, we have managed to collect a substantial contribution for children benefitting from the Pink Bubble Foundation."
The chamber ensemble of the Czech Philharmonic Orchestra created a festive atmosphere throughout the evening with a special performance in a rather unique setting: "The Czech Philharmonic regularly supports the development of young people in their endeavor to overcome some difficulty in life, be it social or health-related. We are delighted to have supported this very worthy cause with a very special musical performance," said the Managing Director of the Czech Philharmonic, David Mareček. David Mareček accompanied by several musicians of the Czech Philharmonic introduced himself as a pianist. During the evening he accompanied the young, talented saxophonist, Bohunka Pečenková, who successfully beat cancer.
In addition to musical performances, guests enjoyed a special four-course menu prepared by CottoCrudo Executive Chef, Luca De Astis.
The partners of the event donated a selection of products for a silent auction, through which guests contributed to the collection of funds for the Pink Bubble Foundation. Proceeds will go toward assisting young people suffering from cancer during their treatment, recovery, and while returning to a normal life.
"We would like to use the raised funds for curative and adventure trips for patients after their active treatment. Girls and boys spend a lot of time in the hospital and then isolation during treatment at home, therefore we want to enable them to meet each other during ordinary and extraordinary activities. Our experience is that many of them gain the necessary confidence and smiles return to their faces during those trips. We are sincerely grateful to the Four Seasons Hotel for their generous support of our efforts and we thank the management and the entire team," said Martina Šmuková, Founder and director of the Pink Bubble Foundation.