Emirates welcomes 100th A380 to its fleet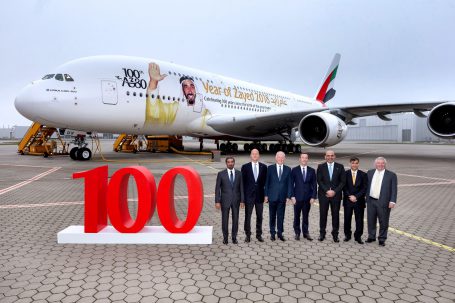 Emirates today celebrates the milestone delivery of its 100th Airbus A380 aircraft at a special ceremony with Airbus at the manufacturer's delivery centre in Hamburg.
His Highness Sheikh Ahmed bin Saeed Al-Maktoum, Emirates' Chairman and Chief Executive officiated the ceremony. He was joined at the event by Sir Tim Clark, President Emirates Airline; Tom Enders, Airbus Chief Executive Officer; Dominic Horwood, Rolls-Royce, Director – Customer and Services; His Excellency Ali Al Ahmed, UAE Ambassador to Germany and Frank Horch, Senator for Economy, Transport and Innovation of the Free and Hanseatic City of Hamburg.
Sheikh Ahmed said: "This is a tremendous moment for Emirates, for Airbus and for our many partners involved in the A380 programme. There is no doubt that the A380 has had a big positive impact on aerospace manufacturing and the broader aviation industry, supporting hundreds of thousands of jobs and stimulating innovation and new product development in many related areas such as ground handling, catering, airport facilities and cabin products, to name a few.
"Importantly, the A380 also brought the flying experience for our customers to the next level. The aircraft itself is a showpiece of engineering. It is the world's largest commercial passenger jet but it is quiet and efficient and at Emirates we've utilised the onboard real estate to redefine the thinking around inflight products and experience. Our flight crew love to fly it and our customers love to fly in it.
"For Emirates, the A380 has been a success. We've been able to utilise it at slot-constrained airports, as well as at regional and 'secondary' airports where we have grown passenger demand. Each time we deploy an A380 onto a route, it typically stimulates further traffic and demand as travellers are attracted by our flagship A380 experience. We remain committed to the programme and will work closely with Airbus and our partners to continually enhance our A380 product as we look ahead to receiving our remaining 42 aircraft on order."
"We are extremely proud of our long-standing relationship with Emirates – a partnership that has been integral to the A380 programme," said Tom Enders. "It is a source of immense satisfaction for everyone at Airbus that such a visionary airline has believed in the A380 from the beginning and chosen it as its flagship and the backbone of its operations. And, of course, it is always exciting to hear positive feedback from our customers and passengers about the aircraft, while associating it with Dubai's success as the world's most dynamic air transport hub."
Dominic Horwood said: "We would like to congratulate Emirates on this momentous occasion. We are very proud to be powering their 100th Airbus A380 and look forward to building on our strong relationship in years to come."
Powered by Rolls-Royce engines, Emirates' 100th A380 is configured in three cabin classes, with 14 private suites in First class, 76 seats in Business and 426 seats in Economy.  It also features the airline's newly revamped Onboard Lounge. It will be on display at the upcoming Dubai Air Show and will enter service afterwards.
Year of Zayed tribute
Adding to the celebrations, Emirates unveiled a special tribute to the late HH Sheikh Zayed bin Sultan Al Nahyan, founding father of the United Arab Emirates, with bespoke livery for its 100th A380.
HH Sheikh Ahmed said: "2018 is the "Year of Zayed", marking 100 years since the birth of our country's founding father and celebrating his legacy. Emirates is proud to launch our tribute to the man who has been instrumental to the UAE's formation and development, at the milestone delivery of our 100th A380."
"Just as the A380 has broken new ground in so many regards, Sheikh Zayed was a true pioneer and visionary. Bringing his message of inspiration, daring and determination to the world as we fly the A380 around the globe, is an apt way to celebrate his amazing legacy."
Positive impact aerospace and aviation
The Emirates A380 programme creates and supports manufacturing jobs across the global aircraft manufacturing supply chain. Airbus estimates that Emirates' A380 orders alone support 41,000 direct, indirect and induced jobs in Europe, including some 14,500 in Germany alone. These are high-skilled jobs and impact a high-value supply chain, creating a significant multiplier effect in the countries where Airbus has aircraft production facilities. The estimated Europe-wide impact of Emirates' A380 investment amounts to €3.4 billion in GDP in 2013/14. In Germany and France the GDP impact is €1.2 billion for each country.*
In April 2015, Emirates signed an historic €8.7 billion deal with Rolls-Royce for Trent 900 engines and a long-term total care package. The engines will power 50 Airbus A380s which began entering service in 2016. The deal, which is the largest ever for Rolls-Royce and one of the largest ever export orders for a UK-based company, was part of Emirates' ongoing investment in the UK and Europe.
Setting new standards for flying experience
The introduction of Emirates' first A380 in 2008 set new standards for customer experience, introducing many industry firsts including the Onboard Lounge, Shower Spas, free wi-fi and advanced inflight entertainment systems in all classes, as well as many other features.Emirates continually invests to enhance its A380 product, ensuring its customers enjoy the best possible experience. To date over 85 million passengers have flown on the Emirates A380.
The airline has implemented countless improvements on board its A380 fleet since 2008, ranging from subtle updates such as the addition of in-seat USB ports and introduction of electric window blinds, to more major upgrades such as relocating overhead luggage bins to provide a more spacious cabin, installing bigger and better inflight entertainment systems and a newly revamped Onboard Lounge.
Emirates' A380 operations
Emirates is the world's largest operator of the A380 aircraft, flying this iconic double-decked jet to 48 cities on six continents on scheduled services. Including one-off flights, special commemorative services, test flights and other operational deployments, over 70 airports to date have welcomed the Emirates A380.
The airline receives on average 11 A380 deliveries per year, starting from its first aircraft in August 2008. In its 2016/17 financial year, Emirates received a record 19 new A380 aircraft.
In Dubai, Emirates operates the world's largest A380 hub with an entire purpose-built concourse dedicated to A380 operations. The US$ 3.3 billion facility was an investment to offer travellers unprecedented convenience and comfort with direct boarding to the A380 aircraft from the First and Business class lounges and amenities including duty free shops, spas, an array of dining options and more.
Emirates has 1,500 flight deck crew and over 23,000 cabin crew specially trained to operate its A380 fleet.