Emirates SkyCargo Ships 35,000 Tonnes of Cool Chain Products Through its New Hub in Dubai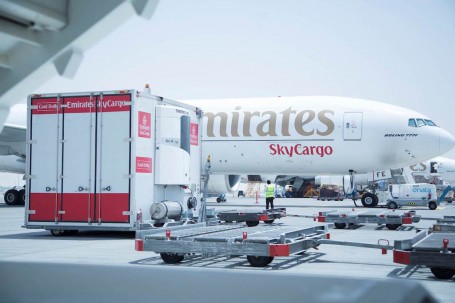 DUBAI, U.A.E., 10 December 2015 – Emirates SkyCargo, the freight division of Emirates, recently shipped its 35,000th tonne of Cool Chain products through its exclusive freighter hub at Al Maktoum International-Dubai World Central (DWC) which opened earlier this year.
Named SkyCentral, the facility has 15,000 square metres of dedicated storage for temperature-sensitive goods. It compliments a range of Emirates SkyCargo services designed to protect refrigerated cargo. These include the Emirates SkyCargo White Cover, a protective skin that shields the cargo to keep it cold; and the Emirates SkyCargo Cool Dolly, a piece of equipment that transports cargo from the aircraft to cool storage areas, while maintaining temperatures of as a low as -20°C.
While the types of products shipped through SkyCentral's Cool Chain facilities vary, some of the most common are pharmaceuticals, fresh fruits and vegetables and increasingly, seafood. Since SkyCentral opened, Emirates SkyCargo has shipped almost 6,000 tonnes of sustainably-sourced seafood, ranging from Skipjack Tuna from the Maldives to American Lobster from Boston.
To highlight the increasing role seafood shipments play at SkyCentral, Emirates SkyCargo recently created an animated infographic that chronicles the journey of a lobster from the icy-cold waters outside Boston, Massachusetts, to several lobster-loving destinations across Asia. The animation highlights Emirates SkyCargo's superior Cool Chain capabilities and its ability to connect nearly any two points on earth with temperature-sensitive cargo.
About Emirates SkyCargo – www.skycargo.com