CHEP, Pragolaktos and PENNY team up to transport and sell millions of litres of Czech milk per month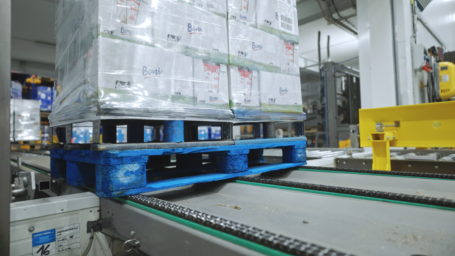 CHEP, the international supply chain solutions provider, is helping the Czech Republic's largest milk producer Pragolaktos to further consolidate its strong market position. A long-term partnership sees Pragolaktos rent CHEP's reusable half-pallets for shipping millions of litres of milk to retail outlets each month.
"Our products are delivered on CHEP pallets to PENNY market, for example, where we ship 1,500,000 litres of milk per month. We also send milk on these pallets to 11 other European countries," says Jiří Šoljak, head of the Pragolaktos warehouse.
CHEP's characteristic blue pallets are the preferred solution for the dairy industry because they are characterised by high stability and strength, which are vital attributes for pallets used in dairy storage and transportation. As CHEP rents the pallets to its partners, it also takes care of pick-up, maintenance and necessary repairs.
This solution, known as "pallet pooling," brings a number of benefits and savings to suppliers and retail chains. Based on CHEP's pioneering circular economy principles, reusable pallets are intrinsically sustainable, thanks to an extended lifecycle which leads to reduced consumption of raw materials and waste.
"We move products on CHEP pallets directly to the point of sale after they have been stocked. Handling entire pallets is much easier for us than unpacking and placing individual products on the shelf," explains Jan Bureš, manager of the PENNY store in Ládví. CHEP's display half pallets also increase the availability and visibility of goods for customers. "This is advantageous for shoppers, but also for us and our suppliers, because product sales from half-pallets are significantly higher than from shelves," adds Jan Bureš.
The share of CHEP pallets being used in Pragolaktos' warehouse operations reached approximately 40% last year, a proportion that can be flexibly adjusted and increased depending on the company's real needs.
Pallet pooling is a versatile solution based on circular economy principles that helps to optimise supply chains and increase their sustainability. "Thanks to CHEP pallet pooling, Pragolaktos as a supplier and PENNY as a retailer do not have to spend significant time per month managing pallet accounts. They also avoid having insufficient or excess pallet stocks, which is a significant advantage especially in times of market volatility," says Frederic Rotrou, country lead CHEP in the Czech Republic.