Action to open its second store in Most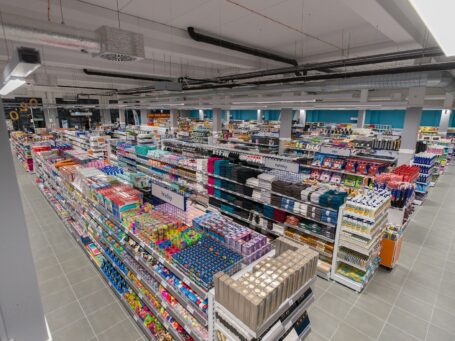 Action, Europe's fastest growing non-food discount retailer, continues its expansion in the Czech Republic. On Thursday, April the 6th, its second store in the city of Most will begin its operations. With this opening, Action will count 48 stores in the Czech Republic, with the milestone of the 50th Czech store to be reached in the upcoming months of 2023.
From this Thursday, residents of Most and anyone in the region can enjoy even more of the "Action Formula": a relevant range of 6,000 articles in 14 product categories and a lot of variety at the lowest price. Customers can look forward to diverse assortment and pleasant surprises at every visit, with 150 new items on shelves every week. Action provides them with appealing specter of daily-use products (cleaning or personal care items, textile and linen…), specialized equipment (household keeping and gardening, tools, DIY…) or goods for festive and seasonal occasions and many more. Over 1,500 products are priced for less than 25 CZK. The average price of all products is less than 50 CZK.
Action focuses on product quality and increasingly sustainable choices accessible to everyone. Over the last years, the company achieved significant progress concerning sustainability of its products, supply chain, carbon footprint and overall circularity – with further ambitious goals set for the future. In 2022, Action reduced their own CO2 emissions (scope-1 and -2) by 40%. Leading discount retailer also plans to source 100% of cotton for their products sustainably by the end of 2023 and 100 % of wood by the end of 2024.
"It is great for us to have another store in Ústí nad Labem Region – and also in Most as such. I am confident that it will be very well welcomed by our local customers, providing them with surprising range and high quality of the products for unrivalled prices," says Petr Juliš, Action General Manager for the Czech Republic and Slovakia. "I am also proud of the fact that we have established ourselves as an important regional employer. Including our newest store in Most, we already have 7 subsidiaries in the region, meaning more than 110 job positions created for the locals."
With more than 2,263 stores in Europe, Action provides jobs to more than 80,000 workers, of which more than 5,750 were recruited between 2021 and 2022. In the Czech Republic, the number of employees already exceeds 1,000. With the opening of this new store, Action creates another 16 jobs in Most.
The new Most store has 815 square meters of selling space. Located in Albert Most shopping centre at Velebudická 3270 it is conveniently accessible. In addition, the store will be open from Thursday, April 6th, 8:00 to 20:00 hours, Monday to Sunday.