Action expands its portfolio with new stores in Jablonec nad Nisou, Ústí nad Labem, Staré Město and Havířov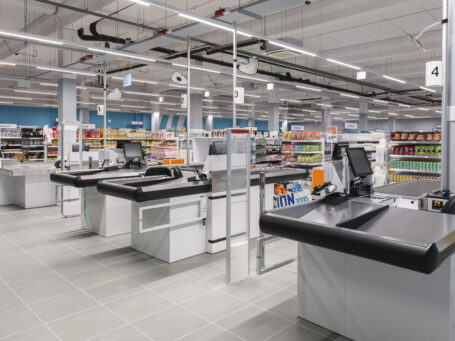 Action, Europe's fastest growing non-food discount chain, opened its first store in Jablonec nad Nisou on 21st July. The branch, located in the Rýnovka shopping centre at Želivského 5050, becomes the company's 27th Czech store, having entered the local market in August 2020. Over the next two weeks, new stores will also open in Ústí nad Labem and Staré Město, both on Thursday 28th July, while a branch in Havířov will launch on 4th August.
Jablonec nad Nisou will gain a new shopping destination with an ever-changing, wide range of high-quality products at the lowest prices. On a sales area of 800 sqm, Action will offer customers more than 6,000 products from 14 categories, including DIY, household equipment, hobbies, decorations, toys, pet products, leisure equipment and personal care.
"Small prices, big smiles". That's the motto of the Dutch discounter, borne out in the customer experience by the roughly 1,500 items in its range that cost less than CZK 25. The Jablonec store will be open every day from 9 am to 9 pm.
The concept, based on the element of surprise, is already popular with millions of customers across Europe, and will also delight customers in Ústí nad Labem, Staré Město and Havířov over the next two weeks.
Thanks to the high interest of residents in Ústí nad Labem, this will be the second branch to open in the expanding retail park on Krušnohorská Street, after the store in Tyršova Street in Trmice. The store in Ústí will be open every day from 8 am to 8 pm.
The first Action store will meanwhile come to Staré Město in Moravia, where Action will offer its product range in a 738 sqm area in the shopping centre at Východní Street 1352. The store in Staré Město will be open every day from 8 am to 8 pm.
For the first time, Action will also operate in Havířov. Customers will find the new 809-sqm store in the shopping centre at Železničárů Street 1303/8. The store in Havířov will be open every day from XX to XY
"We are delighted with the response the Action concept is receiving on the domestic market," says Petr Juliš, Action's CEO for the Czech Republic. "Czechs love the surprises they get every time they visit our stores, where we introduce more than 150 new products every week, with two-thirds of the range constantly changing. It is therefore very likely that you will leave each time with something you didn't know we had on offer – whether it's everyday products or seasonal goods. That's what makes us unique."
And while enjoying the products sold by Action, customers can shop with a clear conscience: Action offers a range of products that are certified by third-parties such as FSC, PEFC, FairTrade, BCI, OekoTex, and others, as sustainably sourced or produced.